Tonight on Starz is the beginning of a 8 part mini-series based on Ken Follett's novel, The Pillars of the Earth.  This epic story deals with conflicting elements: building and destruction, love and war, good and evil, religion and royalty, family and foe,  feast and famine, joy and misery, and so on. Although the fight for the crown in feudal England is a central theme, the evolution of building a massive Romanesque church to building a soaring Gothic cathedral in medieval 12th century England intrigued me more.
How does this story about architecture relate to me and my experiences in life? Like Tom the Builder and Jack, my father, grandfather and many uncles were builders. They built everything!  Commercial buildings, houses, furniture, cabinets, outdoor sculptures, and extravagent bird houses. Building is part of my roots!
In college, I had to take art history classes where I studied Romanesque churches,  Gothic cathedrals, flying buttresses, cornices, naves, and so on. At the time I found it a bit mundane. Since then I've been fortunate to travel to Europe, and now find that those classes were very valuable when visiting various architectural sites. As I read the novel, I found myself intrigued by all the building practices of the time.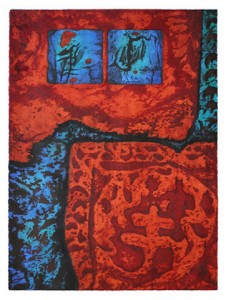 Although I'm not a builder, I now have a penchant for photographing ancient walls. While in Andalusia, Spain, I toured lots of Moorish architecture and photographed the walls and crumbling arabesque ornamentation. Those images were used as background textures in my Arborglyph and Arabesque monoprint series. I worked on this series for an exhibit in Kuwait in 2007.
Calligraphy is an important art form there. My Arborglyphs (calligraphy-like glyphs that have NO particular meaning) provide a visual link between cultures.
Arborglyphs and Arabesque: (2 symbols 1, 3) Ancient Rust Walls
© 2007 Linda C. Everson, All Right Reserved.